Before: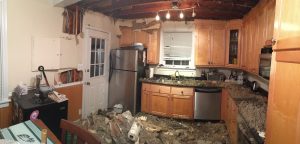 Construction Services
Insurance repairs
Home improvement projects
Remodeling and renovations
Flooring
Kitchens
Baths
Garages
After:
Rebuilding your life after a flood, fire or other disaster is an overwhelming task.  Not only are you trying to restore normalcy, but you're also left facing the repair, or even reconstruction, of your workplace or home.  With other decisions looming, selecting a contractor can seem like a daunting task.
Nichols Inc. won't leave the burden or worries of construction on you.  In addition to being a full service restoration company, Nichols Inc. is a licensed Virginia Class A building contractor.  We can assist you through the entire process to lessen the stress imposed by a loss.
No job is too large or too small.  We have the experience to handle any project, whether it involves a total loss and complete rebuild or a loss resulting in minor renovations or repairs.
Or, if you simply need to hire a contractor to build a new deck or install hardwood floors, you can rest easier knowing you can trust your needs to Nichols Inc.